Australian STOCK!
Come with a 1 year Warranty
Did you know that dry air is one of the leading causes of dry skin, sinus congestion, chronic cough, and even nosebleeds? Meet the H2O Air Humidifier which moisturize the dry air in your home or office in minutes.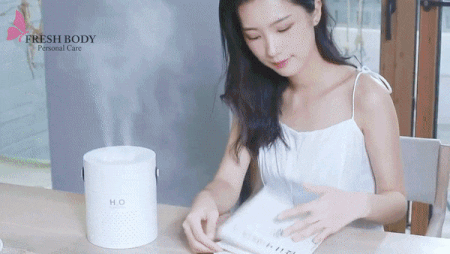 This aesthetically pleasing air-hydrating device adds much-needed moisture to your air, directly combating the negative effects of an overly-dry environment.
BENEFITS OF A HUMIDIFIER
Preventing influenza: Authors of one study noted that humidifiers might reduce the risk of catching the flu. After adding the influenza virus to the air with a simulated cough, researchers found that humidity levels above 40 percent rapidly deactivated virus particles.
Making a cough more productive: Dry air can cause a person to have a dry, unproductive cough. Adding humidity to the air can get more moisture into the airways, which can make a cough more productive. 
Reducing snoring: Increasing the amount of moisture in the air can also reduce snoring. If the air is dry, a person's airways are less likely to be sufficiently lubricated, which can make snoring worse..
Keeping the skin and hair moist: Some people notice that their skin, lips, and hair become dry and fragile in winter. Using a humidifier to add moisture to the indoor air may help to reduce the occurrence of dry, cracked skin.
Benefits for the home: Moisture from a humidifier can be helpful around the home. Any moisture-loving houseplants may become more vibrant, and wood floors or furniture may last longer.