Large Portable H2O Air Humidifier 1.1L
Improve Indoor Air Quality Using The H2O Humidity
Indoor air quality is essential to ensure you are comfortable and healthy. There are different aspects to determine air quality, humidity being among the most important. Humidity levels reduce over the winter, causing issues like dry skin and irritated sinuses.

Increase the humidity in your house using the portable H2O humidifier from Fresh Body Personal Care.
Did you know that dry air is one of the leading causes of dry skin, sinus congestion, chronic cough, and even nosebleeds? Meet the H2O Air Humidifier which moisturize the dry air in your home or office in minutes.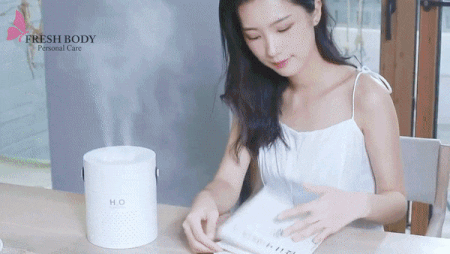 This aesthetically pleasing air-hydrating device adds much-needed moisture to your air, directly combating the negative effects of an overly-dry environment.
BENEFITS OF A HUMIDIFIER
Preventing influenza: Authors of one study noted that humidifiers might reduce the risk of catching the flu. After adding the influenza virus to the air with a simulated cough, researchers found that humidity levels above 40 percent rapidly deactivated virus particles.
Making a cough more productive: Dry air can cause a person to have a dry, unproductive cough. Adding humidity to the air can get more moisture into the airways, which can make a cough more productive. 
Better sleep: Dry air makes the airways less lubricated, increasing the probability of snoring, which could result in sleep apnea. However, a humidifier restores the moisture in the air, lubricating the airways better.
Promoting hair and skin health: Dry air makes the moisture from the skin and hair evaporate more, causing dry, chapped, and itchy skin and lips, plus hair breakage. Adding moisture with a humidifier reduces evaporation rates.
Benefits for the home: Moisture from a humidifier can be helpful around the home. Any moisture-loving houseplants may become more vibrant, and wood floors or furniture may last longer.
Come with a 1 year Warranty
H2O Humidifier Features
Auto shut off- The essential oil humidifier has a feature that prevents dry burning, automatically shutting it off when it is out of water.
Silent working- This portable humidifier runs silently, and you will hardly notice it's even there. This makes it ideal to have in your bedroom, children's bedroom, or office.
Two mist modes- It has a continuous and intermittent mist mode, and you can choose whether to use single or dual nozzles. It runs for 27 hours on the continuous mist mode and 40 on the intermittent mode when using one nozzle. However, if you use dual nozzles, it runs for 13 hours on the continuous mode and 26 hours on the intermittent mode.
LED colours- The H2O Humidifier has seven LED modes that add a calming effect to the atmosphere.
Large water capacity- The humidifier can hold up to 1100ml of water.
Wireless working- This cordless design makes it possible to use the portable humidifier in different rooms or even carry it on trips. It charges using a USB cable and takes three hours to attain a full battery.
Read More

Additional H2O Humidifier Uses

Night light- Its LED light modes allow you to use it as a night light to give off an ambient and relaxing light as you sleep.

Decoration- The portable humidifier's sleek design and different colours make it a beautiful decorative piece.

Relaxation- You can add essential oils to the humidifier, and the essential oil humidifier can emit a relaxing effect depending on the oils you use.

Why Choose Fresh Body?

Numerous payment options - We accept several payment options to cater to different client needs. We also allow clients to zip payments from $10 weekly via Zip or pay in four interest-free monthly installments via AfterPay.

Full package - In addition to the H20/essential oil humidifier, we include a replacement filter, USB charger, and detailed user manual.

Warranty - Our one-year warranty guarantees clients free repair or replacement if the humidifier breaks down within the first year of use.

Customer service - We have excellent communication channels plus hospitable, approachable, and professional customer care staff to cater to all our clients' needs and complaints.

Quality - We take pride in delivering high-quality products made with high-quality and safe materials from reputable brands.

Affordability - We don't allocate huge budgets to marketing and advertising campaigns, allowing us to offer considerably lower prices than other sellers.